Any home remodeling project is a considerable investment of time and money, so it's important to be an informed consumer before making any major decisions. With artificial turf, it can feel like a daunting task, as the market is filled with different products and companies, all offering varying levels of expertise. Fortunately, we've put together a handy guide to the best artificial turf market right here.
  You may feel overwhelmed by the options, and understanding the characteristics of artificial turf may help you relax.
Material of Artificial Turf
  There are two main materials used to make artificial turf: polyethylene and nylon. Nylon is an outdated approach to artificial turf. It's often aesthetically unappealing, rough to the touch, and prone to fading over time. If you still have nylons lying around, they're worth ditching right away. The best artificial turf uses polyethylene, which is softer to the touch and looks like natural grass in every way, giving you year-round green and lawn enjoyment, and is perfect for all indoor and outdoor projects.
Advantages of Artificial Turf
  Don't forget: there are many, many benefits to installing quality artificial turf, as long as you make an informed decision when purchasing.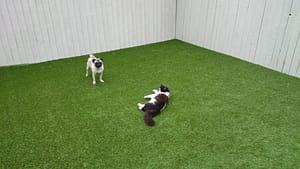 1  Durable
Artificial turf is durable and can withstand excessive foot traffic. Homeowners who choose to have artificial turf on their lawn, deck, or patio can look forward to years of beauty and resiliency in their yards. It is very durable and will last for many years with proper installation and care. Many lawns come with a 20-year warranty, guaranteeing that they will withstand years of use.
2 Artificial grass is known for its low maintenance and beautiful appearance year-round.
  Artificial grass requires little maintenance, making it ideal for busy people or those who don't want to spend time and money on lawn care. An artificial grass patio, No mowing, no watering, no spraying, no fertilizing, just years of enjoyment with family, friends, and pets. With the right drainage system, you can clean your lawn with just a simple rinse.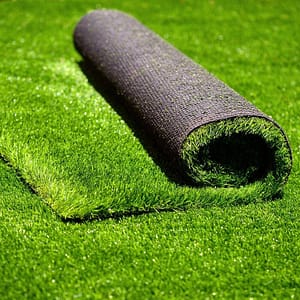 3 Artificial turf can be used in a variety of settings.
  Including high-traffic areas, residential landscaping, commercial landscaping, dog parks, playgrounds, and more.
4 Safer
  Artificial turf is a safe surface for children and pets to play on. It's non-slip and doesn't trap heat as natural grass does. There is minimal chance of slipping or tripping. Dog owners will take comfort in the fact that their pets are less likely to dig the lawn and damage it through play.
5 High return on investment.
  You'll save countless dollars and time by not having to mow, fertilize or maintain your lawn. You don't need to use a lot of water, and you don't have to worry about violating local ordinances that limit unnecessary water use. You'll avoid astronomical water bills during the summer, and your yard will stay green all winter. No need to trim it, spend money on sprinklers, or remove dead spots. This can save you dollars in the long run. Artificial grass pays for itself in just a few years. After that, it's all savings.
Disadvantages of Artificial Turf
1 Uncomfortable
 Artificial turf can be uncomfortable to walk on, especially if it is installed incorrectly.
installation cost
2 Cost  
  The initial cost of installing artificial grass can be high. The time cost of fake lawns is high. Weeding, ground preparation, and materials are all costs involved. If you have a large yard, you may need to spend more time on this large project at first.
limited lifespan
3 Need to be Replaced 
  Artificial grass doesn't last as long as natural grass and will eventually need to be replaced.
4 Maybe hot
  Artificial turf can get hot in direct sunlight and can be uncomfortable walking barefoot. Artificial turf retains more heat than natural grass, so it may feel scorched to the touch. Some filler materials can also increase surface temperature.
Type of Artificial Turf
  When you decide which type of artificial turf to buy, you need to consider where it will be used. With all these benefits, it's important to choose the right type of lawn for your home. Create a budget, know what you can afford, and start doing your research. Different uses are reflected in the fact that you need to choose different types of artificial turf.
  Is your lawn going to be where there isn't much foot traffic or is it going to be where your kids and pets will be running around all day? For example, while most types of turf are fine for your pet or your child to play on, golf course grass requires a specific type of turf so that the ball rolls smoothly and evenly. In simple terms, the most common type of turf chosen for golf is turf with the top blades of grass cut off for better play.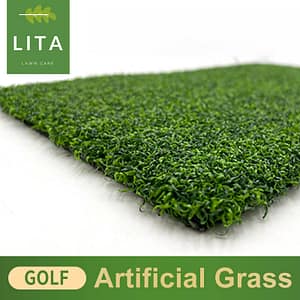 Every homeowner should be proud of their home. Most importantly, every homeowner deserves a beautiful and inviting place to spend their free time. We hope this blog has given you some ideas for the most beautiful backyard spaces you and your family can enjoy.