Your swimming pool is sure to be the jewel in your backyard, but it's only truly fabulous when surrounded by a lush green lawn. Sadly, natural lawns can also attract a variety of pests and debris, including algae.
  While there are natural alternatives to lawns, such as rock gardens and sidewalks with flagstone or brick paving stones, they are more difficult to maintain, especially if you have a busy household with children or pets.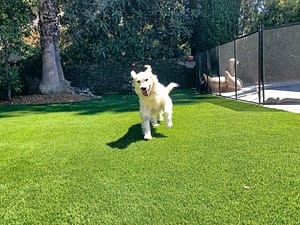 One of the most enjoyable experiences after a quick dip in the pool is stretching on your back and soaking up the sun. However, if you're using popular surfaces like concrete tiles around your pool, it can be dangerous. Concrete tiles can get hot very quickly, especially if you're in a warmer area like Perth. In fact, they can get so hot that they can cause second-degree burns.
  So, what are the alternatives to using concrete tiles around your swimming pool? Wood that only warps? How about natural grass that creates a muddy mess and requires regular maintenance?
  Many homeowners find artificial turf to be the perfect balance of aesthetics and maintenance. In addition to some basic artificial turf benefits, which you can read about in our previous blog "How to Choose the Best Artificial Turf for Your Home", we will see more advantages when considering the specific scenario of the swimming pool.
  Before we dive in, let's look at the pros and cons of some of the most common pool surround materials.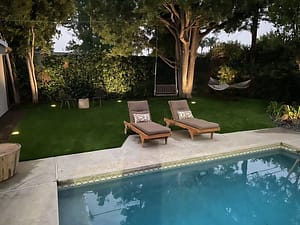 Anti-slip and wear-resistant
The turf around the pool doesn't get slimy even when it gets wet, so you can let your kids play freely in the pool area without worrying about them falling or tripping over uneven surfaces.
No chemicals required
Synthetic grass requires no fertilization or watering, so you can skip these chores entirely. It also means no runoff from chemicals that are safer for pools and the environment.
No mud
Another huge plus, no mud! Artificial grass has a unique surface that repels moisture, dirt, and debris while still maintaining a plush look.
Versatile
There are many options for the shape and size of artificial turf around the pool. Thanks to advances in technology, the artificial grass available today looks natural and blends seamlessly with the rest of the garden. You can choose cool tones or add engineered stone accents for more drama.
Safety factor
Accidents are not limited to swimming pools. It's easy to slip and fall when you're getting in and out of the pool. Artificial grass has better drainage than natural grass and concrete tiles. This improved drainage makes it a safer surface to use around pools.
It's not just drainage that you should worry about. If you will be using natural grass, the fertilizers and other chemicals you use to keep it looking its best may find their way into the pool water. vice versa. The chemicals in the pool can end up on your natural lawn, killing it. the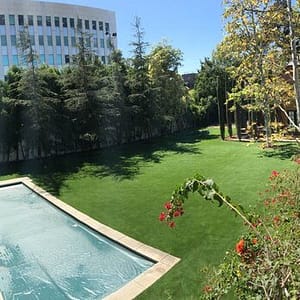 Looking organized and ready for summer is a time-consuming and expensive endeavor. So it makes sense that pool owners are looking for affordable artificial turf as a decorative solution. the
Synthetic turf surfaces can be a great surface choice around swimming pools. If you love swimming, you'll love artificial turf too.
Anyone who loves swimming must know that keeping clean is not that exciting. This is one of the reasons to switch to artificial turf lawns. People with artificial turf yards enjoy cleaner pools than those with grass yards. This is mainly due to less debris getting into the pool. But keeping your pool clean is still a top priority.
How to Keep Your Pool Clean
Prevent debris
Much of the debris on your lawn can end up in your swimming pool. The less debris on your lawn, the less debris will get into your pool. Keeping your lawn clean helps you keep your pool clean too. Over the course of a season, loose leaves, grass clippings, and rocks often drift into the area. You can prevent this by adding fences, boundaries, and other obstacles. For best results, install a fake turf lawn. When the lawn around your pool is made of fake grass, you don't have to worry about grass clippings and similar debris getting into your pool.
Remove dirt
Make sure kids know they need to remove any dirt or mud before jumping in. Again, this is why plastic turf makes pool maintenance easy. Children can safely play on it without the risk of falling into dirt or mud.